Is the corona crisis changing bill collection?
In full corona crisis, it is more important than ever to properly follow up and collect invoices. You can review your payment terms to avoid unpaid invoices, but postponement should under no circumstances become a cancellation of payment. How do you ensure that your customers pay their outstanding invoices as quickly as possible?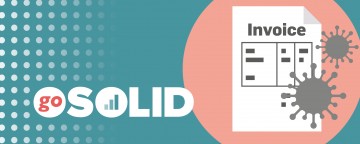 A lot of companies are enduring financial difficulties these days. They have a hard time meeting their financial obligations. Seven out of ten Belgian companies are already affected by late payment in normal economic circumstances. Over the past six months, this figure only seems to have increased, although it is too early to estimate the exact impact. Our Belgian companies are in a dangerous situation.
Collecting invoices in corona times is also not self-evident. It is looking for the right, human approach. As an entrepreneur, do you have to adjust your credit management and your bill collection in corona times? Do you have to (temporarily) collect invoices in a different way? In times of crisis, following up on invoices requires extra attention and it is crucial that payments are made on time. Without disrupting your entire working method, there are a number of measures you can take to prevent invoices from being unpaid for too long, even in full crisis.
Prevention is always better than the cure. In a company, there are 1001 priorities every day, but make sure you make following up on invoices a real top priority. If your customer has to pay 10 invoices, he should certainly not get the impression that your invoice is less important or less urgent. Se keep on billing on time, rather send a payment reminder too much than too little. The supplier who speaks up most often will usually receive payment the fastest. In times of crisis, watch over your tone. Make your customers feel like you understand them, not that there is a knife to their throats. Call in a third party, such as Go Solid, if your invoices remain unpaid.
Advances and partial invoices
In corona times it is extra important to spread your risks. In the construction industry, for example, people often work with advance invoices and partial invoices. Customers will usually receive it with open arms, because it is a win-win situation: they do not have to pay a large amount in one go, and your company does not have to wait for months to receive payment. As an entrepreneur, you want to avoid 'make or break' invoices that ensure that you can or cannot pay your own invoices.
Payment plan
If things still go wrong, a payment plan can ensure that you quickly recover at least part of the outstanding invoice. Of course, it will always be the intention that the customer pays the full outstanding amount, but a payment in installments can help to pay your own invoices on time and to bridge a period. This way you can avoid unnecessary high collection costs and, in the worst case, legal battles.
Reward or big stick?
Nudging can be a powerful tool to get customers to pay their bills on time. You are not going to punish them – although it is still necessary to carry a big stick – but steer towards good behavior. For example, companies have discounts for early payments. There is a certain cost involved, but late payment or unpaid invoices come at much a higher cost. If a discount can avoid that cost, the investment pays for itself.
Collecting invoices is always important but in times of crisis it is even more important to follow up invoices properly. Every late payment or non-payment can be missed more than ever as a toothache. Fortunately, you always have a number of tools that you can use to improve the follow-up of your invoices yourself.
So, don't wait too long to send a reminder and opt for a quick and efficient collection. With Go Solid you get the guarantee of a collection free of charge after a quick assessment of your invoice.