A crucial tip for entrepreneurs? Talk about financial problems!
Tomorrow we celebrate the day of the entrepreneur. This year, that day is more important than ever, because entrepreneurs are struggling. They have put a lot of effort in the fight against corona, but the challenges are piling up. That is why we give them the most important tip for 2021: talk about your problems in time, including your financial obstacles!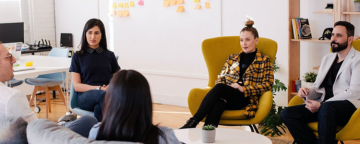 Solidarity at its best
How do you prepare yourself for the future when you are faced with unforeseen financial problems? Mutual solidarity can solve many problems. We see countless entrepreneurs who support and help each other as much as possible. In the meantime, everyone is trying to get through the second corona wave. Quite a challenge. That is precisely why it is important that problems remain open to discussion, certainly also financial obstacles, because we have to face unpaid invoices in time. This way, we may be able to avoid bankruptcy.
Discussing your debts? As an entrepreneur it's probably not your favorite talking point. We understand that all too well. You probably hold tight to your business optimism and the idea that things will get better tomorrow. Or maybe you have a certain fear. Do you fear that customers will view your company differently? Do you see it as a personal failure? Of course, as an entrepreneur you are now faced with a lot of uncertainty. But would you consider to talk about your debts? Then you can benefit a lot from it!
You are not alone
Some Dutch entrepreneurs also testify. They talk about their debts on www.komuitjeschuld.nl. They share their personal story and the solution they found. Their goal? Ensuring that other entrepreneurs learn from their mistakes. They want to prevent others from falling into an equally deep financial pit. Their most important tip? Do not wait too long to seek help and talk about your financial problems in time.
What benefits do you get from it?
When you dare to talk about your financial problems, you can find solutions faster with customers and suppliers. Because honesty is the best policy. Make your partners feel that you are reliable and always want to find a solution openly and timely. This way you maintain your working relationship and make a realistic compromise. Just think of a temporary postponement of payment, a partial payment or a payment plan. This also avoids extra (collection or court) costs on top of the original invoice.
You benefit from talking about financial issues from both a creditor and debtor perspective. After all, if the debtor feels that you are reasonable and are willing to invest in maintaining the customer relationship, that person will also be more likely to pay you first.
It can happen to anyone
Doing business is quite a challenge, especially in times of corona. Despite the temporary support measures, many entrepreneurs see their liquidity decline sharply. As a result, they can no longer pay all their invoices and financial problems arise. This also has an impact on their suppliers. Because if several invoices remain unpaid for you as a supplier, you may run into financial problems yourself.
It can really happen to anyone. That is why it is essential that our Belgian entrepreneurs dare to talk about their difficult financial situation and possible debts. Be realistic and indicate what you can afford, but at the same time make sure that you yourself are paid for your services. Only this way we'll find a solution together.
Therefore, do not wait too long to follow up unpaid invoices and seek professional help in good time. That help does not have to be expensive. Go Solid collects your unpaid B2B invoices free of charge and with respect for your customer relationship. Interested? Contact up via b2b@go-solid.be or the free number 0800 237 39.